Reduce, Reuse, Recycle…Create
Turning Waste Into Wonder
Packing foam, paint chips, used file folders, old VHS tapes, empty cardboard tubes, fabric scraps…some might see these things as garbage. The folks at Resource Depot see airplanes, picture frames, purses, bracelets, models of 
Mesopotamia
, and an endless supply of art materials. 
Things that would normally wind up
in a landfill are cleaned, sorted and made available to the community, along with creative ideas for using the materials. 
Open-Ended Play
This is a great opportunity for children to "learn green" while flexing their creative muscles during sessions of "open-ended" play. They describe it on their website…
When left to their own devices, most children do what educators label "open-ended" play. Adults watch and can remember back to the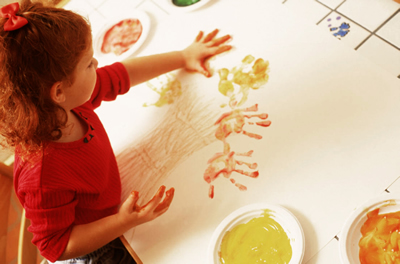 days when brooms became wild horses 
and towels were transformed into capes for superheros. At Resource Depot, old packing materials combined with lots of imagination become robots, remote control vehicles, and even a swimming pool complete with diving board.
So, while children gain respect for the planet, they're also learning how to think, problem solve, and use their imaginations…and that's no garbage!